FUMIGATION OF BULK COMMODITIES
At Ecotec we strive to provide a reliable, high-quality service while adhering to the strictest international regulations. Technicians and personnel at our company pursue our customers interests and aim for an optimal end result.
An effective in-transit fumigation is that which takes into account every possible outcome and variable, including those external to fumigation per se. Ecotec wholly understands the fumigation business and thus can provide customers with an end-to-end, comprehensive service.
- VESSEL FUMIGATION & BARGE FUMIGATION
ADMINISTRATION METHODS:
STANDARD
Aluminium phosphide pellets/tablets are scattered evenly on top of the cargo or probed approximately half a meter into it.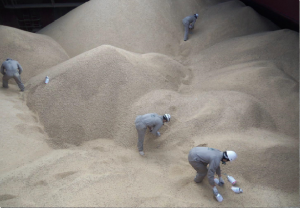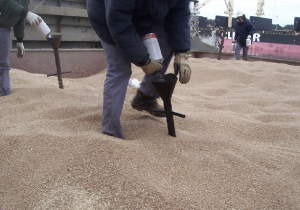 SLEEVES/SACHETS
Aluminium phosphide pellets/tablets are placed inside retrievable parcels that leave no powdery residue on the cargo and can be easily removed upon discharge.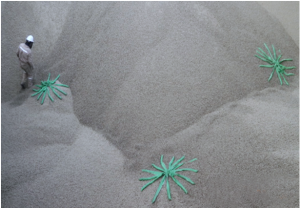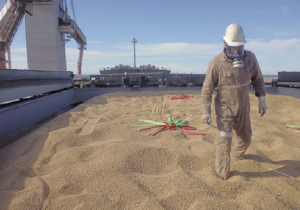 ECO RECIRCULATION ®
This method ensures an even distribution of gas throughout the cargo by means of an Ecovent® fan. One Ecovent® fan is fitted to each cargo hold's manhole and is then connected to a pipe distribution system on the bottom of the cargo hold. Phosphine gas is drawn continously from the surface to the bottom as the cargo is permeated. Recirculation continues for as long as it's needed to ensure a rapid and even fumigation.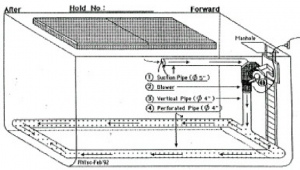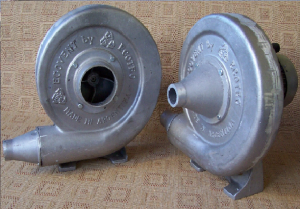 - CONTAINERS
Either aluminium phosphide or methyl bromide may be used.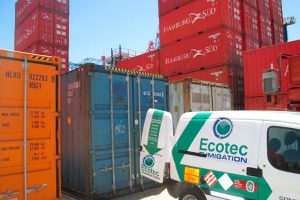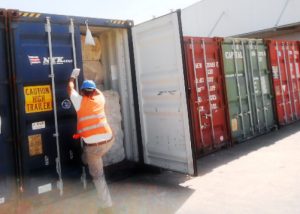 - SILOS
Either aluminium phosphide or methyl bromide may be used.
- LIVING QUARTERS AND CARGO HOLDS DISINSECTION/DISINFECTION
- VENTILATION
Sleeves/sachets retrieval.
Sleeves/sachets disposal.
Cargo holds degasification.
Gas-Free at destination certificate.